VP Smart Removals London
Save time and energy with a professional removal company in London. VP Smart offers convenient removal and storage services for all residential and commercial moving needs.
We are a fully insured and licensed moving business with years of experience providing removal services in London. We have a team of professional drivers and a fleet of quality transport vans fully equipped to handle your moving requirements. You can also expect affordable rates.
Convenient Moving Services in a Few Steps
At VP Smart Removals, we offer a comprehensive selection of moving services in London. We specialise in house and commercial moves. You can also rely on us for furniture removals and storage services in London.
We have a simple process for arranging removal services in London or beyond:
Contact us to discuss your specific needs and receive a quote.
Book a time that works for your schedule.
Our team safely packs and transports your items to your new location.
Moving can be tiring, from packing possessions and protecting furniture to transporting everything to your new home or business. Luckily, you do not need to handle it all on your own.
The team at VP Smart can do the heavy lifting while you relax and focus on other details of the move, such as changing your address and making other arrangements. Contact us to start planning your removal with the top movers in London.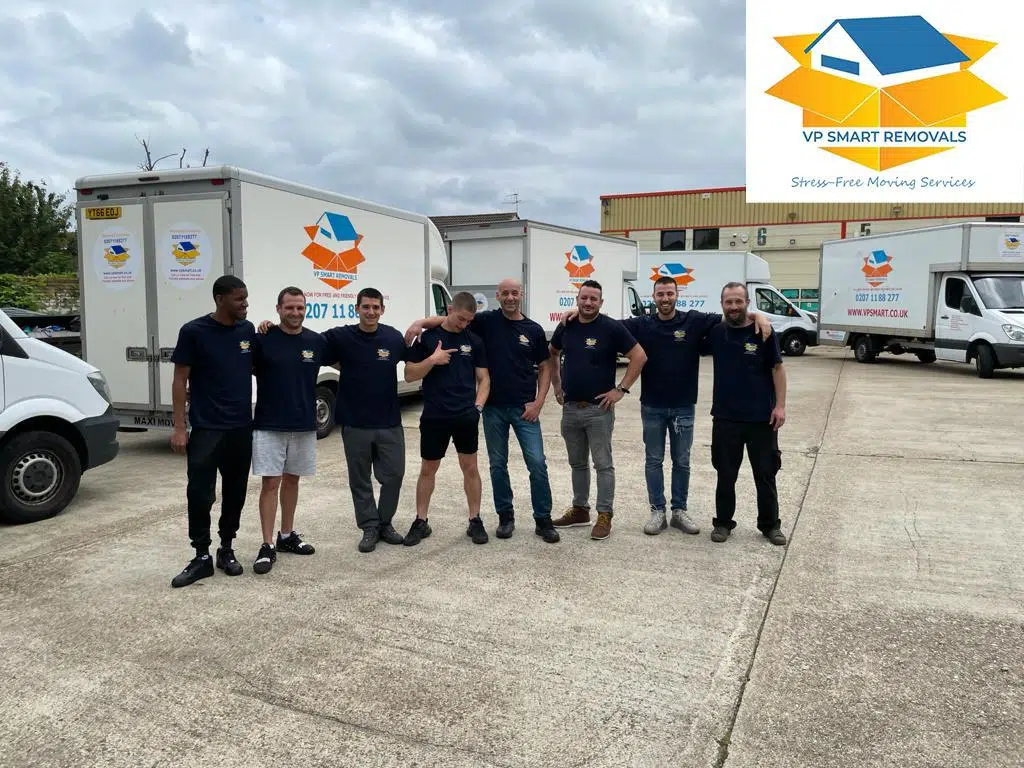 Moving from one home to another can be stressful. Do not go through this all by yourself. Have one of our moving experts and his team of skilful movers and packers do the job for you. Our team will be at the pick-up address on the requested day and time and handle the whole process. The team will also help dismantle and assemble the stuff you need to be. Our movers will place all furniture and other items exactly where you want them. Our home moving services are designed to give you peace of mind.
Make sure all your belongings are securely packed and ready to be transferred, and put a label on each box. Our professional movers and packers can do that if you don't want to waste your time. They will come to help you sort all your items and get them ready for the actual move to London. Once you have been relocated, we can also help unpack, depending on your needs.
Office relocations are complex and require expertise. At VP Smart Removals, each has a specific and clear function. We have skilled movers and professional coordinators who work hard to ensure your business is ready to be up and running immediately after the move.

Besides packing services, we also provide box deliveries in London. You should not worry if you do not have all the necessary packing materials. We will supply you with these. We have boxes in various sizes and provide them in advance or on the day of the move.
Why Choose Us for Removal Services in London?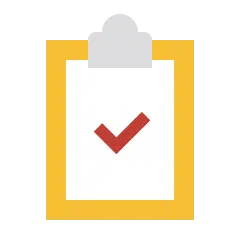 Fully Insurance and Licensed Moving Services
We are a fully insured and licensed London moving company. You can relax knowing that the entire moving process is insured and protected. We are a trusted moving company that meets all applicable licensing and insurance requirements.
Modern Fleet With Professional Drivers
We have a fleet of vans ready to carry your possessions to their next destination. We have a well-maintained fleet of vans and lorries operated by our experienced drivers. All vans and trucks have trolleys, GPS systems, and blankets to protect your belongings. We also complete thorough background checks on all drivers. Our team arrives uniformed and ready to help with your move. You can rely on our drivers for professional, courteous service from start to finish.
Affordable Rates With No Hidden Charges
As part of our commitment to providing the best moving services in London, we offer affordable, competitive rates. We are completely upfront with our pricing. There are no hidden charges. You receive an accurate quote before we start any work.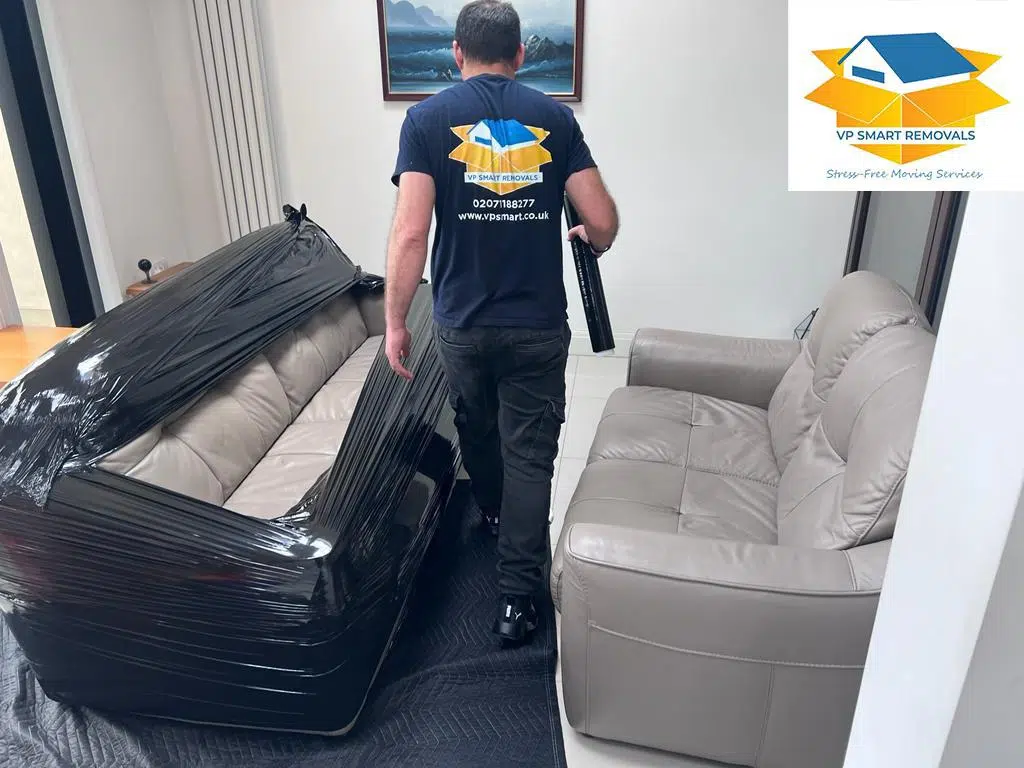 About our team
We attribute our success to our highly personal service. Our staff are professional and knowledgeable, with at least three years of experience in the removal industry. Some of our staff have been with us for more than eight years. As a result, we don't use agency staff or casual labour – all our employees work directly for the company, making us unique in the removal and storage industry. We always prefer to talk to our customers about their needs; nothing is more helpful than a personal touch!
VP Smart is a trusted choice for all types of removals, including residential and commercial ones. Explore some of the advantages of choosing us over other moving companies in London:
Modern fleet of transport vans
Local and long distance moving
Fully insured moving services
Affordable rates with no hidden charges
At VP Smart, your satisfaction is our primary focus. We aim to make the moving process less stressful by handling all the tasks you would rather avoid. You can depend on us to pack and transport your belongings safely and efficiently.
Save your back during your next move
Avoid the back-breaking work of loading and unloading your possessions or work supplies. Whether you are moving home or office, we can handle the hard work for you.
Moving should not be a complicated process. You can depend on the team at VP Smart to eliminate the hassles and streamline your next move. From packing to unloading your items, we can cover all aspects of moving.
We offer tailored solutions to meet your specific needs. You can choose from various services to ensure your removal goes smoothly.
We are your all-in-one source for moving and storage in London and the rest of the UK. Along with removal services, we offer waste removal, end-of-tenancy cleaning, and storage services. You can save time and energy when relocating. Allow the experts at VP Smart to deal with the heavy lifting.
How do I find removals near me?
We offer removals and storage services all across London. If your residence finds its haven within any of these boroughs, rest assured that we have your needs comprehensively catered to: South London, West London, North London and Central London.
What moving services do you offer?
We offer a comprehensive range of services in London to ensure a seamless and stress-free relocation. Our services include professional furniture disassembly and assembly, secure transportation and storage solutions. We can do it! We provide a reliable, professional service at a competitive price. Our mission is to do the job to suit your needs, whether it be a complete removal service including full packing, dismantling (and re-assembling of beds, wardrobes, etc.) and removal, or just a pick-up and drop-off of your goods. Removal and packing services, including all materials needed. IKEA furniture assembling and disassembling.
When your movers pack my belongings, can they place each item where I desire?
Definitely! Every one of your items will be put precisely where you would like it to be, hassle-free. Our movers will do everything necessary to ensure your move goes smoothly.
When does the time start and end for the hourly rate charged service?
Time will start when the team arrives at the pick-up address. The team will present themselves and ask you to sign a job sheet recording the starting time.
The service ends when everything is unloaded and left inside the new property exactly as you wish. Again, you will be asked to sign the job sheet recording the end time of the service.
Do I have to arrange the parking or can you do it for me?
Parking is the responsibility of the customer. You have to make sure you have a permit for the addresses concerned. If you cannot get a permit on time, ask your neighbour for a visitor permit to use for that particular day. We can help you with arranging parking suspension. Please contact the office to assist if you don't want to waste your time; we will gladly help!
Can you supply bubble wrap and boxes?
Yes. We can supply a full range of packing supplies, whether just a couple of boxes for storage or full moving kits for complete removals. We deliver a wide range of top-quality materials for big and small moves at a very affordable price. All items are brand new. Call for an estimate.
Can I change my moving date?
Changing your moving date is not a problem. As a professional company with years of experience, we know last-minute changes can happen, which don't depend on the customer. That is why you can change your moving date without any charges up to 48 hours before the service. If you need to change the date with less than 48 hours' notice, we will be happy to cooperate, but an additional late amendment/cancellation fee will be charged.
Do you charge for moving upstairs?
Yes. For properties without elevators, we charge per technician after the first floor. Charging is only during the loading-unloading process.
Let Us Move You To Your New Life
Our Fleet is Here for You
Packed & Moved in No Time!
A Truly Moving Experience
Open Hours-Office
Mon to Fri: 8:30 am - 5:30 pm
Sat 9:00 am - 5:00  pm
Sun-10:00 am-5:00 pm
Address
7 Pankhurst Close, Isleworth - TW7 6SA
Greater London, United Kingdom