House Removals in London
Moving to a new home involves a lot of work. We make the process a little easier. You can rely on us for convenient, professional house removals in London.
VP Smart Removals is a leading choice for all removals in and around London. Whether you need to transport a few pieces of furniture or everything you own, we can ensure that your belongings arrive at your new home safely and at the best prices.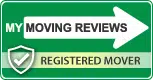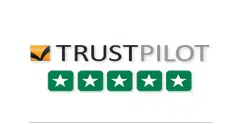 What Does Moving House Services Include?
Our home removal company offers tailored house removals based on each client's needs. House removal services can cover the following:
Packing and unpacking
Transporting items big and small
Moving furniture and oversized items
Temporary and long-term storage solutions
We have a complete range of removal services. You choose what you need help with, from packing to transporting and storage.
At VP Smart Removals, we are available seven days a week. There is no job that is too big or too small. Our team includes experienced movers and a fleet of vans ready to transport your possessions to your new place.

Packing
Your hands are full with everything going on, not everyone has time to handle the packing before the move, and we're more than happy to cover it for you.
Long-distance move
If you're moving across the country and worried that a removal service won't have you covered – worry no more. We're more than happy to provide long-distance removal services.
Personal storage
Moving can be quite hectic, and getting everything organised and ready when needed isn't easy. We understand that, so we offer our storage units to customers. Secure and safe storage units are the best way to keep your belongings safe while you're in between moves.

Box delivery
In addition to our packing assistance, our removal experts also offer box deliveries. You should be well-prepared with all the essential packing supplies we will provide. Our assortment includes boxes in various dimensions, available either ahead of time or on the day of your relocation.
Prices Starting At…
See the list with prices for our professional services. As you can see we have an hourly fee. If you want a customised quote, call us now.
from £240*
Hoisting Charge
*charge depends on the number of items that need to be hoisted and the floor
from £240*
Hoisting Charge
*charge depends on the number of items that need to be hoisted and the floor
All taxes included
Man with a van is 3  hours minimum charge .
There is a 3 hour minimum on all jobs. After the 3 hours, rates will be charged in half-hour increments.
For all jobs that require 3 men, the minimum charge is 4 hours.
VP Smart Removals . has a public and employer's liability insurance. We have a 'Goods In transit' insurance policy – in our hands, your goods are covered up to £50 000.
For fixed quotations, we reserve the right to charge additional half-hourly increments , If there are additional items on the day of the move that weren't shown during the survey !
The customer accepts and understands that poor service, breakage or damage must be reported straight after completion of the job. Failure to do so will invalidate the claim. Items excluded from liability are: cash, jewellery and items of sentimental value.
The company cannot accept responsibility for any accidental damages caused by our movers if the customer has an unpaid balance owed to VP Smart Removals .
By using our site and services, contacting us by phone, e-mail or any other way, you agree with our "Terms and Conditions".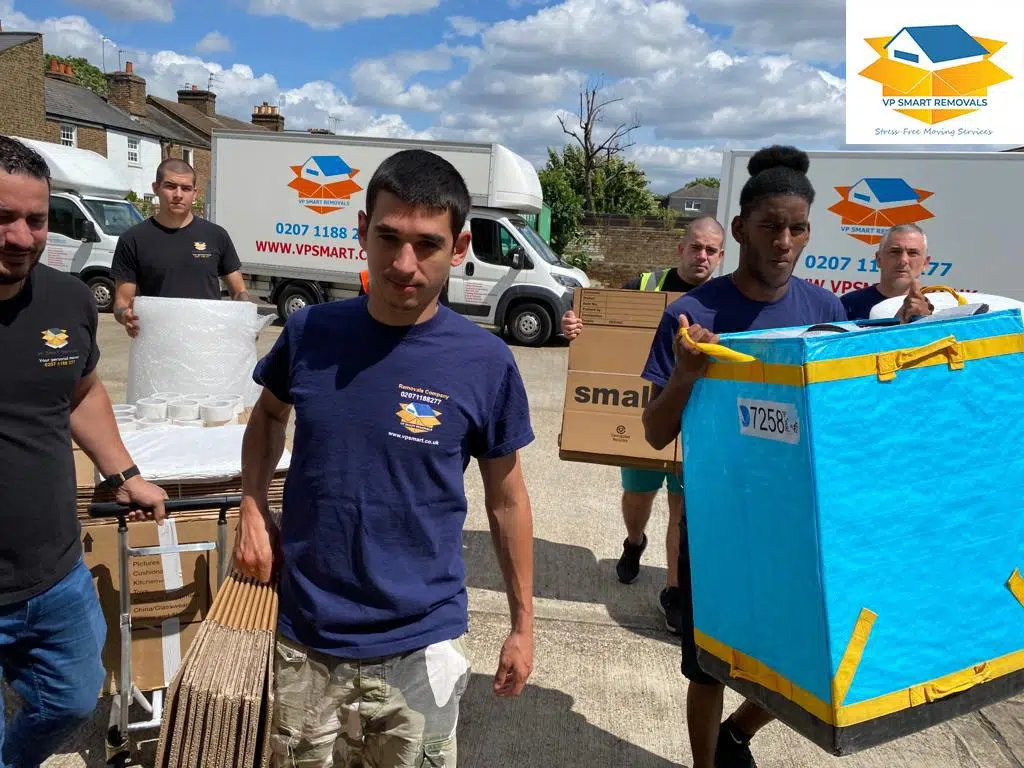 How to Book House Movers Near Me?
We make moving less painful by providing reliable solutions for home removals in London. Our process includes a few simple steps for planning and scheduling a removal:
Contact Us for a Free Quote. Call or message us to discuss your move. We can help determine how many movers and vans are needed to do the job safely and efficiently. Based on your details, we can provide a free, no-obligation quote.
Set a Date for Your Home Removal. After choosing services and agreeing on a price, we work with you to set a moving date that works best for you. House moving companies in London are often busier during certain times of the year, so it's always a good idea to start planning early to get a moving date that fits your needs.
Let Us Handle the Rest. We need access to an adequate spot to load your items into our van on the moving date. If you request packing services, our team gets to work carefully boxing up your possessions before loading everything for the trip. We then safely transport your items to your new location. If you choose, we can also handle the unpacking.
Get a quote today!
Why Choose Us?
VP Smart Removals saves you from the stress that typically comes with moving. Whether moving from a large home or a flat, you must handle the logistics of getting everything to your new place. Instead, you can allow us to plan it all.
We can plan your home removal based on your specific needs. Additional reasons to choose us for your next move include:
No hidden expenses
Bespoke removal services
Protective coverings
Packing/unpacking services
Storage solutions available
Local and long-distance removals
When you choose us, you ensure your belongings are in good hands. From delicate items to heavy furniture, we treat all items with care. We are a licensed, insured removal company with years of experience helping homeowners and business owners relocate.
VP Smart Removals is based in London. However, we have assisted with removals across the UK and beyond. Whether you're moving across the city or the European Union, we can help ensure your items arrive on time and intact.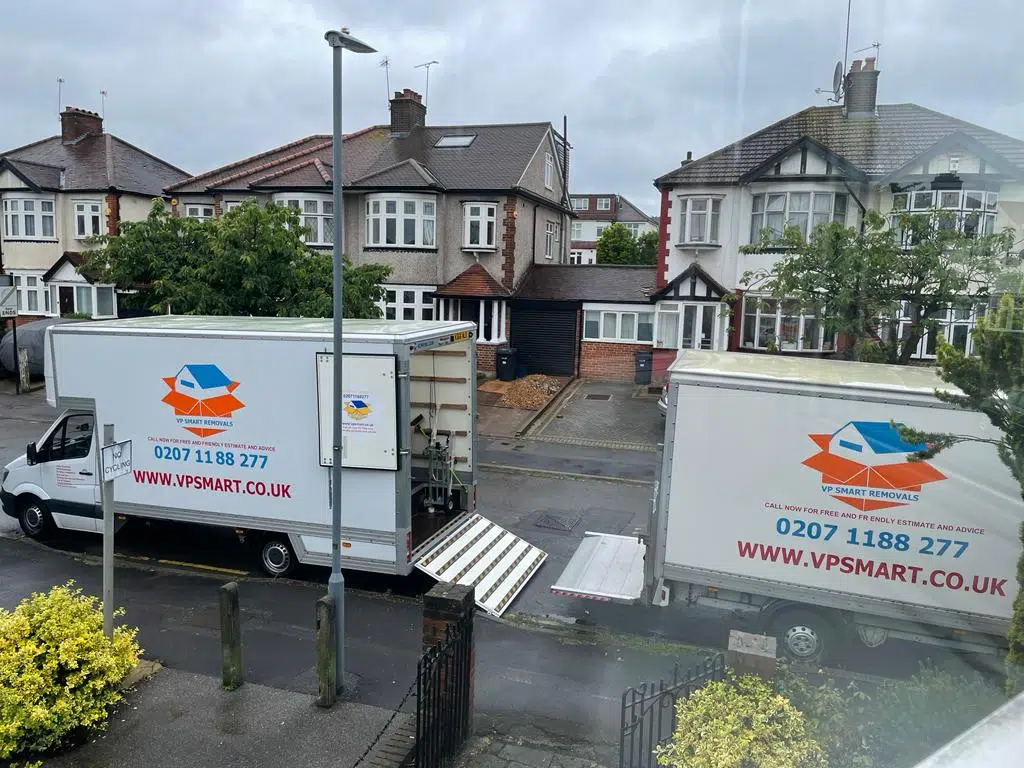 Why Use a House Moving Service?
Before moving house in London, you must sort and pack your belongings. You must then load, transport, unload, and unpack it all. At VP Smart Removals London, we handle every stage of the moving process to save you time and energy.
Here are a few of the highlights of hiring professional home movers in London:
Avoid heavy lifting
Reduce the risk of damage and injuries
Save time preparing your move
Settle into your new home faster
Home removal services keep you from exerting yourself and protecting your items from damage. Our expert movers can safely pack and transport everything, from the most fragile heirlooms to large, expensive equipment and furniture.
You can save time before and after the move. With our help, you can settle into your new place and get things in order faster.
Save your back from heavy lifting. Hire professional house movers to transport your belongings to your new home.
Contact us for a free, no-obligation quote today!
Frequently Asked Questions (FAQ) – House Removals in London
How much do house removals cost?
Unlike most home moving companies, we are entirely upfront about our costs. We have an hourly fee depending on the number of men and vans needed for the job and the day of the week. Rates start at £72 per hour for one man with a man.
Does your moving house company have a minimum charge?
Yes, we have a three-hour minimum charge for man-with-a-van jobs. However, if the project requires three or more movers, we need a minimum charge of four hours.
How far in advance should I plan for home removals?
You should start looking for house movers in London as soon as you have a move-in date for your new place. Booking as early as possible increases your chances of selecting the best time for your schedule.
Are my belongings insured during the move?
We have a "Goods in Transit" policy to cover your belongings. The insurance provides coverage. However, extreme care is given to all items to reduce the risk of damage significantly.
Do home movers near me in London offer free no-obligation quotes?
Yes, the team at VP Smart Removals offers free, no-obligation quotes for all removal projects. Get hold of us today to discuss your moving needs. Pricing is based on hourly fees, making it easy to estimate your costs.
Let Us Move You To Your New Life
Our Fleet is Here for You
Packed & Moved in No Time!
A Truly Moving Experience
Open Hours-Office
Mon to Fri: 8:30 am - 5:30 pm
Sat 9:00 am - 5:00  pm
Sun-10:00 am-5:00 pm
Address
7 Pankhurst Close, Isleworth - TW7 6SA
Greater London, United Kingdom