5 tips when choosing a removals
company
If you are ahead of a moving house process, there are many things you should consider, arrange and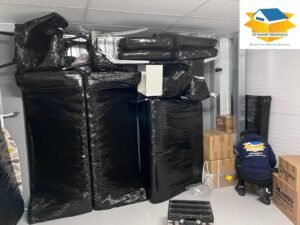 do. The truth is that having someone by your side is a must. This is tough to be handled the
procedure with many tasks and factors to revolve in your mind. It might be wise of you to rely on
professionals rather than on friends, colleagues, your own family, or your neighbors. Thankfully, in
the UK and the capital of London, there's an extensive choice of removal companies. The question,
though, is whether it would be appropriate enough to hire the first one you meet on the street or in
your online research.
As a matter of fact, it's not at all. Actually, choosing the right moving houses company makes you one
step closer to the hassle-free removal process. There are many approaches you can take into
consideration when making a concrete choice. However, five tips are mandatory to be followed in
your selection. Here are the 5 pieces of advice you need to know when choosing a removals
company.
Reservation of the parking space in advance
One of the biggest challenges in the removal arrangement is the parking space. One is supposed to
be reserved in advance. Otherwise, your luggage load might be either difficult or even impossible.
The thing is that the different British cities and the districts within them have their own
arrangements regarding the parking suspension arrangement. Depending on them, you might have
other conditions to load and unload the baggage at your property. It would be not just kind and
helpful but practical of the moving house's specialist to offer such assistance. Many companies in the
industry help with reserving the parking space through the local council. It's an administrative
procedure that will cost you time and nerves. Why bother when the moving out company might
include it within its final service price?
Seek a variety pack of removal services
Speaking of many chores included in the universal professional removal service, it would be great for
you to know that the company provides flexible and complete assistance for the procedure. In other
words, it would be good if you sought out a team that can suit your individual needs. This is possible
when the company has experience in the field and has the expertise to assist you in many areas,
including:
 Offering you storage facilities. This is a good alternative when you require a part of your
personal belongings to be delivered a bit later than the removal date.
 Waste removal. There's a big possibility for you to remain with numerous items you don't
want to bring into your new home. However, many of them shouldn't be left the standard
street tidy. Instead of wondering where the unique places for these wastes are, simply rely
on the moving company to handle your chore.
 Emergency services. The significant changes in our life usually happen all of a sudden. You
might need urgent assistance to move out quickly. Unfortunately, not all the companies work
365 days per year. It occurs even more demanding if your removal process is supposed to be
arranged during a bank holiday or the weekend. Well, there's no need to panic because there
are yet many options for a man with a van to give you a hand during these special days of the
year, too.
What about an end of tenancy cleaning?
For those of you who have lived on rent up to now, we have a warning: you cannot live in your
current house just like that. A "Goodbye" to your landlord is not enough to end up your previously
signed contract. Look within its clauses, and you will find one related to the mandatory end of
tenancy cleaning. If you read it carefully, you will understand there's a big chance of losing some
money. We are talking about your tenancy deposit. Don't you remember providing one when you
moved into your current house? Well, if you don't put the property back in a top condition that is
presentable and clean enough to accommodate new tenants at once, the landlord has the right to
keep the tenancy deposit. Don't let that happen, and sanitize the property deeply and thoroughly.
Cannot handle such a purge? Well, in this case, the right removal company might help you. As long as
it offers professional end of tenancy cleaning services, you can cancel this duty of the moving out
checklist.
Packing materials are an agenda task
No matter how oversized your baggage is, it cannot be loaded like that chaotically in the van. An
organization with safety measures against damages and losses is a must. For this purpose, you should
have the suitable packing materials. Though, your personal suitcases are not enough to put all your
personal belongings. Don't forget that you have extensive and valuable items, pieces of furniture,
etc. In the removal industry, ordinary boxes are used for this purpose. But here's what: they cost
money. And sometimes it's getting even worse: they are hard to be found. Yet, if you spot a removal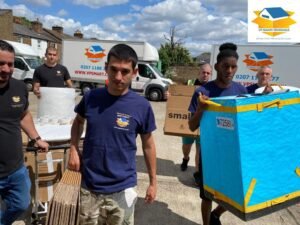 service with packing materials included in the price, don't let it go. Order it right away as it will save
you lots of nervous situations and money.
Reviews and reliability of the company
Whatever service or company you look for to assist is always good to know it's reliable and
trustworthy. On the other hand, people these days are not insured against frauds and cheating. You
must lean on the right man with a van to avoid a catastrophic removal failure. The company's
reliability is now very easy to be checked out. And we strongly recommend you not to make a
payment or any reservation actions before you make this check. It's easy to understand how
trustworthy a removal company is. All you need to do is to search for reviews. People these days are
very keen on leaving customer feedback posts to evaluate the companies and services they've just
used. The good thing is that, unlike in the past, today, clients tend to be active in writing both:
positive and negative reviews. They will definitely help you out to make the proper selection.
You can find customer reviews about VP Smart removal services, too. Don't hesitate to read them
before you give us a call and order any of your teams and men with a van. We guarantee flexibility,
an insurance clause in our service contract, and complete assistance for all the chores you've got to
deal with whole moving out.